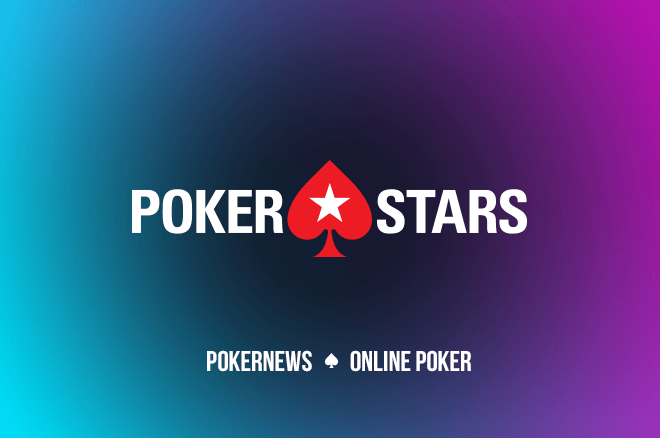 The excitement around Spin and Go tournaments has never died down since making their debut at PokerStars in 2014. Spin & Go games attract recreational and professional poker players in equal measure thanks to the jackpot element making it possible to turn a relatively small buy-in into a payout worth up to $1 million, and do so in a matter of minutes.
What is Spin and Go Poker?
Spin and Go tournaments are a variant of a sit-and-go that has no set start time, with each game starting as soon as enough players have bought in. A typical Spin & Go at PokerStars has three players, although the Spin & Go Max Hold'em has up to eight; more on that twist soon!
The so-called "jackpot sit and go" format first appeared online at Winamax in July 2013 under the name Expresso. Their popularity resulted in other online poker sites and networks creating their versions of these lottery tournaments. The iPoker Network launched Twister, the now-defunct Full Tilt released Jackpot, 888poker created BLAST, and PartyPoker got in on the act with SPINS.
You may be wondering why these popular poker tournaments are often referred to as lottery or jackpot sit & gos. That becomes apparent as soon as the games start. Rather than have a prize pool that the buy-in determines, the prize pool is randomly determined before dealing of the first cards. Most of the time, in fact, between 80-90% of the Spin & Go tournament you play, the prize pool will be either 2x or 3x your buy-in. However, if Lady Luck is shining down on you, you could find yourself playing in a game with a prize pool multiplier worth up to 240,000, meaning it is possible to win $1 million from some of the games!
This randomness adds an air of excitement to Spin & Go games because the potential payouts are massive, and playing in a tournament with one of the larger prize pool multipliers feels like you are enjoying a significant overlay.
Standard Hold'em and Omaha Spin & Go tournaments at PokerStars see you sit down with only 500 chips as a starting stack. The blinds start at 10/20, which means you only have 25 big blinds from the word go. The blinds shoot up rapidly, too. Check out the table below to see just how fast.
Prize pool multiplierBlinds (minutes) 2×2 3-5×3 10-25×4 120x and above5
The action is even crazier in Spin & Go Flash because you start your quest for glory with only 300 chips, and the blinds increase every minute!
Mostly, Spin & Go tournaments play as a winner-takes-all format, which means only the champion is paid. However, if the prize pool multiplier lands on 10x, the winner and runner-up receive a payday. Prize pool multipliers of 25x and above see all three entrants win a slice of the pie, although the first-place finisher reels in the lion's share of the pot.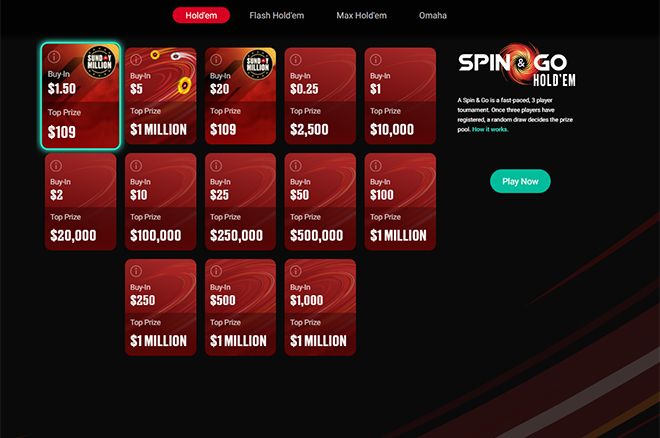 Hold'em Spin and Go buy-ins
How to Play Spin and Go Tournaments
Registering for a Spin & Go tournament is as simple s getting involved in any other PokerStars sit & go or multi-table tournament; you'll be spinning and going within a few mouse clicks!
Load up PokerStars and click on the Spin & Go tabDecide whether you want to play Hold'em, Flash Hold'em, Max Hold'em, or OmahaClick the buy-in that you want to playChoose how many Spin & Go you want to play at the same time (between one and five)Click Play Now and wait for your Spin & Go to fill up with players
Hold'em Flash Hold'em, and Omaha Spin & Go tournaments get underway as soon as three players are registered. Max Hold'em Spin & Go are slightly different in that they follow the same format but the number of entrants, between three and eight, are randomly determined before the tournament starts. Also, Max Hold'em games have a predetermined number of hands you play before the game forces every player all-in until the winner is crowned!
Buy-ins of $0.25, $1, $2, $5, $10, $25, $50, $100, $250, $500, and $1,000 are available, plus, on occasion, PokerStars runs special edition Spin & Go games that pay tournament tickets instead of cash. These usually appear in the run up to the Sunday Million or during major festivals such as the Spring Championship Of Online Poker (SCOOP) or the World Championship Of Online Poker (WCOOP).
Before you game starts and the cards are in the air, the PokerStars software displays a slot machine-like spinner that eventually settles on the prize pool you are playing for. No sooner has the prize pool been determined, you and your opponents receive your hole cards; you literally spin and then go!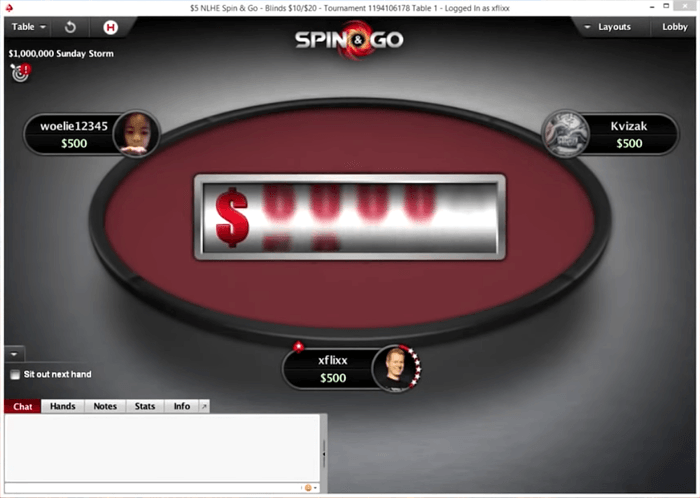 How Much Can You Win?
The random prize pool multiplier means sometimes Spin and Go players win the lottery. Hitting the top prize pool multiplier of 12,000x at the lowest $0.25 stakes creates a $3,000 prize pool where second and third-place collect $250, and the champion wins $2,500, which is quite incredible for a quarter.
The $5 buy-in Spin & Go games have a 240,000x multiplier, resulting in a $1.2 million prize pool! Win this and you instantly become a millionaire, while both your opponents pad their bankrolls with $100,000 each.
As you can see in the tables below, most of the time you will play for either a 2x or 3x your buy-in prize pool. In fact, the prize pool multiplier will be 5x or above in less than 10% of the games you play, but the biggest multipliers do land, so there's always a chance.
Buy-in: $0.25
Rake: 8%
Prize Pool Multiplier1st2nd3rdProbability in 1M Games 12,000$2,500$250$2501 240$50$5$530 120$25$2.50$2.5075 25$5$0.75$0.501,000 10$2$0.50 5,000 5$1.25  85,000 3$0.75  414,012 2$0.50  494,882
Buy-in: $1
Rake: 8%
Prize Pool Multiplier1st2nd3rdProbability in 1M Games 12,000$10,000$1,000$1,0001 240$200$20$2030 120$100$10$1075 25$20$3$21,000 10$8$2 5,000 5$5  85,000 3$3  414,012 2$2  494,882
Buy-in: $2
Rake: 8%
Prize Pool Multiplier1st2nd3rdProbability in 1M Games 12,000$20,00$2,000$2,0001 240$400$40$4030 120$200$20$2075 25$40$6$41,000 10$16$4 5,000 5$10  85,000 3$6  414,012 2$4  494,882
Short Stack Strategy: 5 Tips to Survive as a Short Stack
Buy-in: $5
Rake: 8%
Prize Pool Multiplier1st2nd3rdProbability in 10M Games 240,000$1,000,000$100,000$100,0001 240$1,000$100$100300 120$500$50$50750 25$100$15$1010,000 10$40$10 50,000 5$25  850,000 3$15  4,020,102 2$10  5,068,847
Buy-in: $10
Rake: 7%
Prize Pool Multiplier1st2nd3rdProbability in 1M Games 12,000$100,000$10,000$10,0001 240$2,000$200$20030 120$1,000$100$10075 25$200$30$201,000 10$80$20 5,000 5$50  85,000 3$30  444,012 2$20  464,882
Buy-in: $25
Rake: 6%
Prize Pool Multiplier1st2nd3rdProbability in 1M Games 12,000$250,000$25,000$25,0001 240$5,000$500$50030 120$2,500$250$25075 25$500$75$501,000 10$200$50 5,000 5$125  85,000 3$75  474,012 2$50  434,882
Buy-in: $50
Rake: 6%
Prize Pool Multiplier1st2nd3rdProbability in 1M Games 12,000$500,000$50,000$50,0001 240$10,000$1,000$1,0030 120$5,000$500$50075 25$1,000$150$1001,000 10$400$100 5,000 5$250  85,000 3$150  474,012 2$100  434,882
7 Tips to Take Your Poker Game From "Meh" to Amazing
Buy-in: $100
Rake: 5%
Prize Pool Multiplier1st2nd3rdProbability in 1M Games 12,000$1,000,000$100,000$100,0001 240$20,000$2,000$2,00030 120$10,000$1,000$1,00075 25$2,000$300$2001,000 10$800$200 5,000 5$500  85,000 3$300  504,012 2$200  404,882
Buy-in: $250
Rake: 5%
Prize Pool Multiplier1st2nd3rdProbability in 1M Games 4,800$1,000,000$100,000$100,0001 240$50,000$5,000$5,00030 120$25,000$2,500$2,50075 25$5,000$750$5001,000 10$2,000$500 5,000 5$1,250  85,000 3$750  511,212 2$500  397,682
Buy-in: $500
Rake: 5%
Prize Pool Multiplier1st2nd3rdProbability in 1M Games 2,400$1,000,000$100,000$100,0001 240$100,000$10,000$10,00030 120$50,000$5,000$5,00075 25$10,000$1,500$1,0001,000 10$4,000$1,000 5,000 5$2,500  85,000 3$1,500  511,212 2$1,000  397,682
 
Buy-in: $1,000
Rake: 5%
Prize Pool Multiplier1st2nd3rdProbability in 1M Games 4,800$1,000,000$100,000$100,0001 240$200,000$20,000$20,00030 120$100,000$10,000$10,00075 25$20,000$3,000$2,0001,000 10$8,000$2,000 5,000 5$5,000  85,000 3$3,000  514,812 2$2,000  394,082
10 Tips for Sit & Go Success: How To Play Heads-Up
Are Spin and Go's Profitable?
There was much talk on social media and on poker forums when PokerStars launched Spin & Go tournaments back in 2014, and most of the chatter suggested there were essentially unbeatable. The winner-takes-all format – for most of the games you play – combined with the hyper-turbo structure and the rake meant grinders did not expect to win consistently at Spin & Go.
However, once players began logging plenty of volume and devised strategies, they soon realized Spin & Go tournaments can be very profitable at PokerStars, even if you endure a long spell of not playing for the largest payouts, which is likely.
You see, this format attracts recreational players in droves, particularly at the lower end of the buy-in ladder. These players are happy to commit their stacks with less-than-stellar holdings in the hope of doubling up or busting and firing up the next Spin & Go. Sure, the shallow stacks and hyper-turbo blinds leaves little room to outplay these weak opponents, but you can still enjoy a significant edge over lower-stakes players if you put in enough study away from the tables and practice at them.
Of course, hitting one of the massive payouts will make Spin and Go very lucrative and profitable, but it is best to simply treat these as a bonus rather than relying on them to make you profitable in the games.
In addition, because a rake is charged in Spin & Go games, you progress through the Stars Rewards scheme, meaning you are earning the equivalent of rakeback all the time. Play enough games and you could be taking home four-figure sums of loyalty payments each month, which takes some pressure off your bankroll if you hit a dry spell.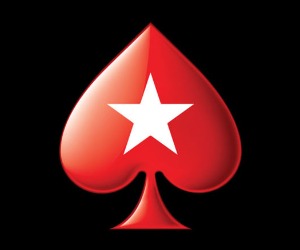 Spin and Go Strategy: Tips to Win More
Winning Spin and Go players are well versed in short-handed, short-stacked, and heads-up play because these are the three main elements of this format. It is worthwhile studying these aspects of poker tournaments and working on improving your skills in each.
It is important to try and accumulate chips as soon as possible not only because of the rapidly increasing blinds, which will result in you becoming short-stacked sooner than you would like but also because you could find yourself with little to no fold equity if your stack dwindles and you find yourself heads-up for the victory.
The power of position is very real in this format, so be willing to show aggression when first in from the button or the small blind. You will find the better players either min-raise or make raises of 2.1-2.3 big blinds, so they put fewer chips at risk in case they are three-bet all-in, but it is still an amount that can win the pot preflop.
How Push-Fold Strategy Changes in Bounty Tournaments
Eventually, unless you manage to accumulate a big stack (in relation to the ever-increasing blinds), you are going to find yourself in push-or-fold territory where the only moves available to you are to fold or commit your entire shallow stack. One-hundred percent you need to study push-fold strategy because the knowledge will be the difference between showing a profit and being a losing player.
Team PokerStars' Nick Walsh suggests studying push-fold ranges for the latter stages and always be on the front foot where possible.
"Just sit down and do your homework with regard to ranges. Have some guidelines on the kinds of ways you should be playing. It's little things like adjusting your preflop raise sizes and ranges. Adjusting how wide you're playing from all of the positions is huge. You want to be playing loads of buttons heads-up and defending your blinds extremely wide but in a controlled manner."
Spin and Go FAQ
What are the Spin and Go tournaments at PokerStars?
Spin and Gos are a type of fast-paced sit-and-go tournaments available at PokerStars. These online poker tournaments feature a hyper-turbo blinds structure, 500-chip starting stacks, and a randomized prize pool that can reach up to 240,000x the buy-in.
What is a 'lottery-style' poker tournament?
In these tournaments, the prize pool is not determined by the sum of the buy-in fees paid by the participants but is assigned, at random, by an algorithm.
What's the maximum you can win in a Spin and Go?
$1 million is the largest prize you can win in PokerStars' Spin & Go tournaments.
Is PokerStars the only website with this kind of games?
Spin and Go tournaments are exclusive to PokerStars. However, PartyPoker, 888poker, GGPoker, Unibet Poker, and sites on the iPoker Network such as Betfair Poker and bet365 Poker have versions of jackpot sit & Go games.