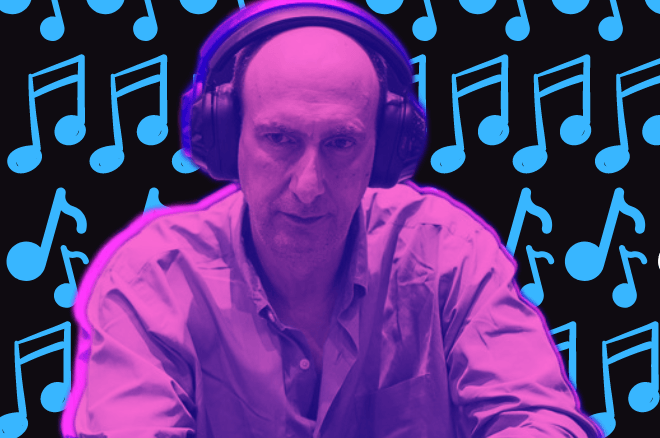 Erik Seidel is known for many things in the poker world. He is a member of the Poker Hall of Fame. He sits fifth on the all-time money list with over $42 million in live earnings and is tied with Johnny Moss in fifth on the all-time World Series of Poker (WSOP) bracelet list. He appeared in Rounders at the beginning of the Poker Boom in a clip of his memorable runner-up finish to Johnny Chan in the 1988 WSOP Main Event.
But there is a lesser-known side to the poker legend. Few may know, for example, that when Seidel isn't in Las Vegas or Europe for the latest poker stop, he is probably at a Broadway musical or at a folk festival in Brooklyn. Or that when he is focusing at the poker table, he is likely listening to a playlist packed with jazz and classical, as well as indie artists like Sparklehorse and Angus & Julius Stone.
"It's almost like he's capable of living these two completely full and fulfilling lives in parallel," Maria Konnikova told PokerNews. "And I honestly don't know when he sleeps because it's kind of crazy how seriously he takes poker and how passionate he is about it, and yet how much time he finds for music, art, just living life, traveling, being with his family."
The New Yorker writer turned poker pro may know Seidel better than anyone else in the poker world. Seidel mentored Konnikova as she prepared for the 2017 WSOP Main Event and the two developed a strong friendship.
"It's almost like he's capable of living these two completely full and fulfilling lives in parallel"
Here's how Konnikova described Seidel in her 2020 book The Biggest Bluff: "In the bombastic, testosterone- and expletive-filled, ego-driven world of professional poker, Erik is atypical in more than his unassuming manner. He may be the only poker pro to boast a membership to the Brooklyn Academy of Music, a willingness to fly cross-country to see Dave Chappelle do stand-up, or a near encyclopedic knowledge of the latest in the culinary scene from Los Angeles to Manila. He's certainly the only pro who prefers New York to Vegas — and has a part-time residence on the Upper West Side of Manhattan, the same area where he grew up, and not just the usual Vegas abode. His curiosity is genuine and boundless, his enthusiasm for life entirely contagious."
PokerNews recently spoke with Seidel about his creative side and, specifically, his deep passion for music.
"I've always loved music," the nine-time WSOP bracelet winner said. "I grew up in a family where there was always music around. I dunno, some people take Prozac, I listen to music."
The Seidel Music Bug
Now 63, Seidel's audiophilia traces back to his childhood in the 1960s and 1970s, when the cultural hotbed that is New York City was producing revolutionary music acts like The Velvet Underground, Ramones and Television.
"Both my parents were really into music. My mother played music — I grew up with my mom primarily, and she always had something on the stereo. She was obsessed with Nina Simone, she loved Paul Simon. She listened to a lot of music and she had good taste."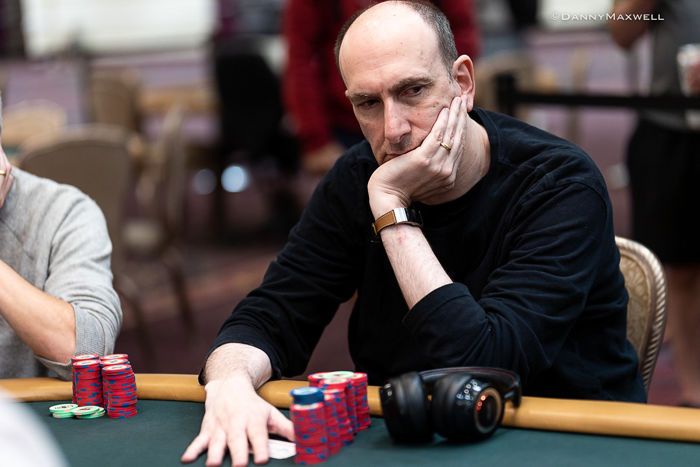 Erik Seidel at the 2022 WSOP
Another Seidel with good taste was Erik's younger brother, Steve Seidel, who is "really into music" and turned his sibling on to bands like the English indie pop group Florence + the Machine, which "was a big one."
"Because that was before her album even came out in the US. I got to see her in London. I think the album was out in London, but … it was probably about six months away from being released here in the US. So that was cool, and then getting to see her here in the US before she blew up was really fun."
Further demonstrating that music appreciation runs in the Seidel family, Steve's daughter runs a weekly radio show at the University of California at Santa Cruz titled Music From My Dad, where she spins classic artists like Bill Withers and Steely Dan and contemporary acts like Daft Punk and Thundercat.
"He's got great taste and often writes about music, as well," Seidel said about his younger brother. "I pay a lot of attention to his end-of-the-year lists and whatever he recommends. Afghan Wigs is one band he turned me onto that I really like. He listens to a lot of stuff."
A Glimpse at Erik's Playlist
The idea for this story came while I was live reporting at the European Poker Tour (EPT) Barcelona stop in August, where Seidel was, in standard fashion, grinding long hours and making final tables.
During Day 1 of the EPT Barcelona Main Event, I spotted Seidel with bulky headphones over his ears in a black t-shirt that caught my attention. It was from the 2018 "There's No Leaving New York" festival, a massive gathering at Forest Hills Stadium that featured indie artists like The National and Phoebe Bridgers, both of whom I myself have seen perform live.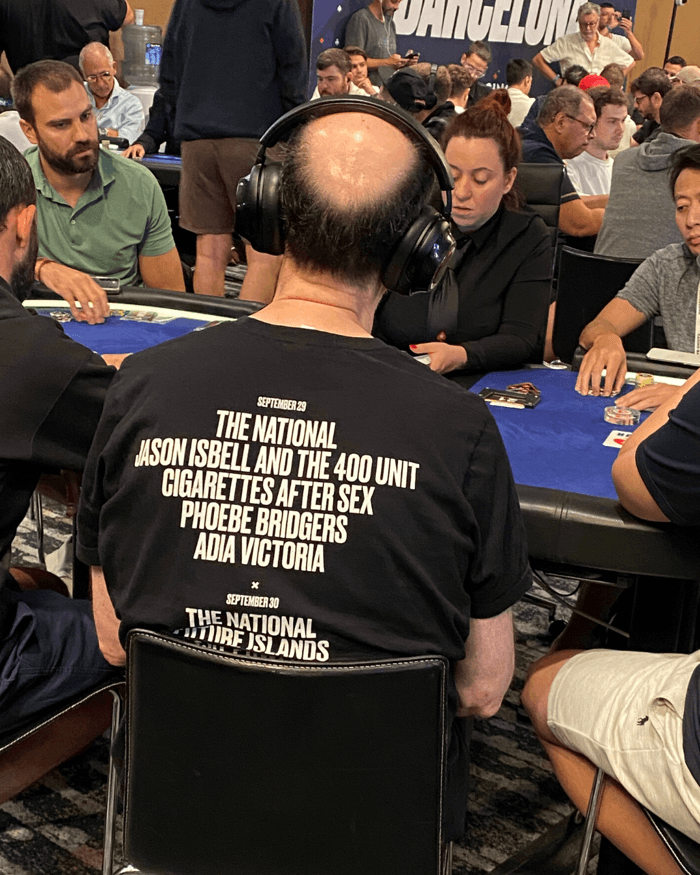 Erik Seidel at EPT Barcelona
Intrigued and always eager to discuss bands I like, I couldn't resist asking about the shirt.
"I think they (The National) are the best band in the world," Seidel told me. "I really do."
Later, I asked Seidel if he'd be willing to have a longer discussion about his love for music. He agreed to do so, just not in the middle of a tournament.
Seidel's taste in music can only be described as eclectic — hip-hop, soul, classical, jazz, folk, rock, pop, he likes it all, no matter how obscure.
"Indie is probably what I listen to most. A lot of singer-songwriters."
"I would say a decent percentage of the music I listen to is stuff that most people would not have heard of," he said. "And I have a playlist, it's kind of meant to be kind of a mellower playlist for when I'm getting a massage or something like that, and that has a lot of songs on it that are just from a pretty wide variety of artists. But it's definitely meant to be on the mellower side. But I think if anybody looked at that on Spotify they would find a huge percentage of different bands and singer-songwriters that they've never heard of."
But there is one alternative rock subgenre closest to his heart.
"Indie is probably what I listen to most. A lot of singer-songwriters. The National is probably my favorite band. I love Wilco. I tweeted about Valerie June, I love her. I was just looking to see if she's got any live concerts coming up anywhere in my neighborhood. But she doesn't do any touring, (or) as much as I would like."
Seidel turned the tables and asked me a question: "And what kind of music do you generally listen to?"
I told him that I grew up listening to listening to heavy metal like Black Sabbath and Iron Maiden and had branched out to more subtle genres in recent years.
"Interesting," he replied. "I wonder if we tend to mellow as we get older."
Mellow Music on the Felt
When Seidel's at the poker table, the mellower the music, the better.
"It's always interesting to me what people listen to (while playing poker) because I know a lot of people listen to metal or rap and feel it pumps them up or whatever, but for me, I want to listen to the most mellow stuff. I just want to listen to stuff that's not distracting. A lot of times I'll just sit and listen to jazz or find a classical album or something. I don't want anything too distracting, or I don't want to be banging my head on the table."
And every now and then, music takes precedence for the relentless grinder. He may be the only player on the high roller circuit to have skipped a tournament to attend a blues show, which is what he did in October when he missed an EPT London High Roller to instead see a performance at Shepherds Bush Empire in West London by Mississippi musician Christone "Kingfish" Ingram, a "really incredible blues guitarist that is only 23 years old and they're already calling him the future of the blues."
Made one of the great poker decisions of my life, took day off EPT to see @callmekingfish Look him up on YouTube,… https://t.co/RA9hM9fJWm
— Erik Seidel (@Erik_Seidel)
"It really was one of the most exciting shows I've seen in my life," he recalled. "He was just an incredible guitarist, and he was also a really great performer, as well. He was really getting the crowd into it."
"I felt like that was going to be a much more memorable thing for me than playing another tournament."
"I had heard his album maybe earlier this year and just it struck me right away that this guy is really special. And so I bought the tickets months ago knowing I was going to be in London for the EPT, and I just decided at the end of it, I felt like that was going to be a much more memorable thing for me than playing another tournament … That's also part of the fun of being in a city is going and exploring new venues and new neighborhoods and things like that. And getting to walk around. London is really such an incredible city to walk in."
After the momentary break from the felt, Seidel played the EPT London Main Event, where he ran deep and wound up finishing in 12th place for $46,462.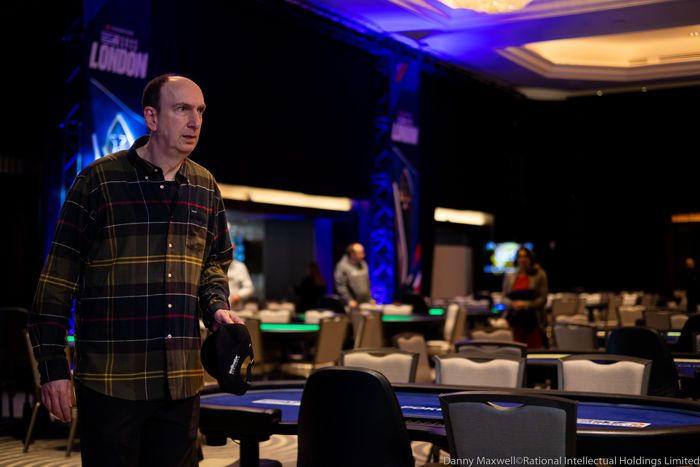 Seidel after being eliminated from the 2022 EPT London Main Event
"He Might Be the Only Person I Follow on Spotify"
Seidel immediately made an impression on Konnikova when she approached him to get his mentorship in preparation for the 2017 WSOP Main Event.
"I think that when you're meeting a poker player you expect a certain thing," she told PokerNews in an interview for this article. "At least, I know that now. When I first met Erik, I really didn't know what to expect. So I didn't know how shocked I should've been. But these days, I know that most poker players, they play poker … They do tend to be circumscribed a little bit."
"And right away when I met him, I was just completely blown away by the depth of knowledge of these different topics that he has (interest in)."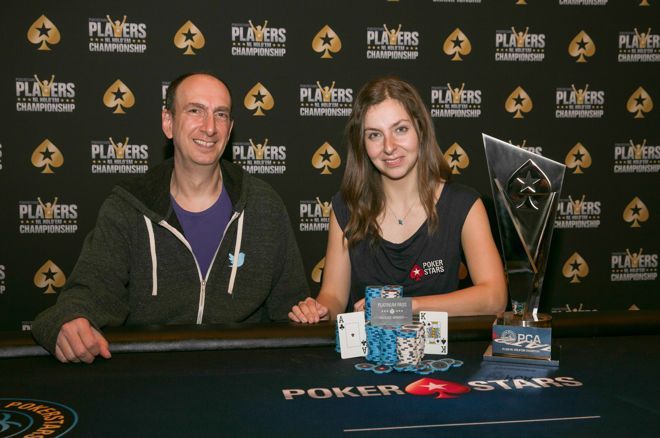 Erik Seidel and Maria Konnikova
After their first meeting, Seidel startled Konnikova by asking what she thought about Sergei Dovlatov, a 20th-century Russian writer whose books probably don't line the shelves of many poker players.
"And I was like … 'Wait, why in the world are you asking me?' He's like, 'Oh, I saw that he was mentioned on this New Yorker podcast that I listen to and I was wondering if I should read his short stories.' Who does that?! I was like, 'Yeah you should read him, he's wonderful.' But that, to me, encapsulates how he approaches it and how he's just truly interested and passionate about all of this."
Konnikova called Seidel her "go-to source for music," mentioning that "he sends me albums and playlists all the time and I know I will like them, and they're all over the map, from rap to soul, jazz, classical, just everything."
"And he's constantly listening to music, by the way," she said. "He constantly has new playlists going … I think he might be the only person I follow on Spotify."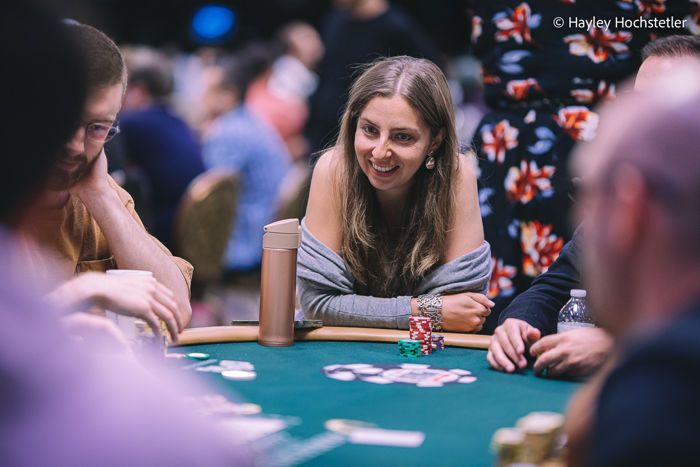 Konnikova at the 2022 WSOP
Has Konnikova ever gotten to accompany her poker mentor to a concert or show?
"Oh, always. Yes is the answer. He just has an absolutely insatiable amount of energy, an insatiable curiosity and, I don't know, an interminable amount of energy … But it's just bottomless, and every single time that we're in New York at the same time he will always be like, 'Hey, do you want to go to this?'"
"Every single time that we're in New York at the same time he will always be like, 'Hey, do you want to go to this?'"
One memory came to Konnikova's mind. Seidel asked if she'd accompany him to a late-night comedy double-header, starting uptown with Chris Rock and ending with Jerrod Carmichael in the Village.
"I was like, 'Dude, I'm gonna be asleep. I can't do it.' And he did it … He absolutely did it and he loved it. He was like, 'Absolutely worthwhile.' And I don't know what time he probably gets home after things like that. 3 a.m.? 4 a.m.? I couldn't do that even when I was 18 years old!"
Heaven or Las Vegas or NYC
Though he lives in Las Vegas, Seidel estimated he spends about a third of his days in his hometown NYC. And in that time, he tries to make the most of it.
"I pay a lot of attention to what's happening in the music scene and the theater scene. So when I'm in New York I'm out pretty much every night doing something. Because there's just always … I mean, all of the most gifted people in the world come here and perform here, and so it's just incredible to me to hang out and have the opportunity to do all the things that we have here in the city."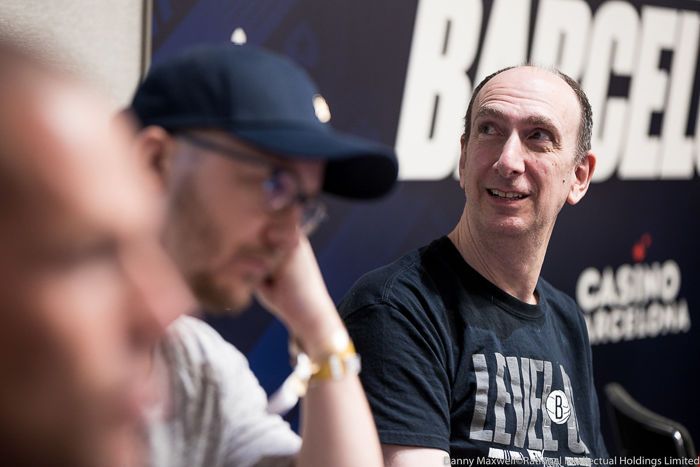 Seidel sports a Brooklyn Nets shirt at EPT Barcelona
With the majority of his time spent in Vegas or on the road, Seidel called it "a real treat when I do get to be here (in New York)."
"This is really heaven for me," he said. "I'm always happy here."
Recently, Seidel spent his 63rd birthday in his favorite city seeing a revival of the musical Parade starring Ben Platt, a performance that was "actually incredible."
"It really was one of the most powerful shows I've ever seen. It was just a short-term production, so it was only there for five days and they're hoping to take it to Broadway, so I do hope they make it to Broadway. It was just really a brilliant production."
While Konnikova has amassed more than $375,000 in live tournament earnings and won a 2018 PokerStars Caribbean Adventure trophy with Seidel's mentorship, she is also grateful for the Poker Hall of Famer's guidance in life's other facets.
"One of the things that I absolutely love about New York is just the vibrancy and that there's always something to do," she said. "And I do love music and art and culture and theater and jazz and all of these (things), and I love the availability of all of that there. And I think he made me appreciate New York more in the sense of actually taking advantage of some of these things. And getting over my laziness, because I do get lazy, and he's like, 'No, you have to see this.' And he's made me realize, you know what, just get off your ass and go see it. So I definitely owe that to him."
Read about Erik Seidel's recent deep run in the EPT London Main Event, where the Poker Hall of Famer was looking to become just the tenth Triple Crown winner.